When I was about 18, I read a book about skin care in which the author shared her enthusiasm for the Hungarian Erno Lazlo skin care method. In the late 60s and early 70s, Dr. Lazlo became popular in Hollywood when Marilyn Monroe started using it and Audrey Hepburn said "50% of my beauty I owe to my mother and 50% to Erno Lazlo."
At that time, the Lazlo products were only available at a high-end department store called, Saks Fifth Avenue. But I was anxious to get my mom down there so we could try it out. And lucky for me, we lived close to Beverly Hills, California, where the store was located. I think we spent about $75 — which was a lot of money at the time.
Lazlo believed in a method of skin care that includes analyzing your skin type by a series of questions, which puts you into a certain "time" on the clock — before 12 o'clock means your skin is more dry — after 12 means your skin is more oily. So I fell at the 1 o'clock time — a little on the oily side — but called the normal/combination skin type.
The routine for this skin type is rather simple and employs oil, soap, and water. Sounds so easy. First, you use an oil to pre-cleanse your skin and remove makeup and dirt — and then you wash your face with a bar of black sea-mud soap and rinse 30 times in warm water. You are supposed to fill the sink (clean I hope) with very warm water and using your hands, dip the bar of soap in, rub it over your face to lather-up and then splash water up on your face (30x) to rinse completely.
This is not the popular OCM or oil cleansing method that I find on Pinterest and blogs. That's when you don't use soap, and you only use oil and water (which don't mix — anyone with a little chemistry should know.) Oil is a great pre-cleanser, but I like to follow it up with soap and water.
Next, I use a toner to remove any residue and replace the normal pH of my skin. Then I apply a light lotion and foundation called "shake-it".
Well, as the cost of this little regime increased and my money went to more important things like kids — I often had to drop my skin care program. In fact, I recall one time, my daughter, when she was about age 2, was having fun in the bathroom, and seemed to pour out the contents of a $35 bottle of shake-it.
I make many of my own skincare products. The pre-cleansing oil is really quite simple to make. Nothing very magical about it. Erno Lazlo uses mineral oil, safflower seed oil, fragrance, apricot seed oil, avocado oil, grape seed oil, hazel seed oil, jojoba oil, sesame seed oil, and sunflower seed oil and some other additives along with Citral, Citronellol, Coumarin, Eugenol, Geraniol, Isoeugenol, Limonene, Linalool.
I don't like mineral oil, since it's a distillate of petroleum oil.  It's a by-product in the process of making gasoline. And it is pretty cheap — inexpensive. So I'm not going to use it in my recipe.
Instead, I recommend using any of the oils that researchers have studied on newborns and premature babies  — sunflower seed oil, avocado oil, coconut oil.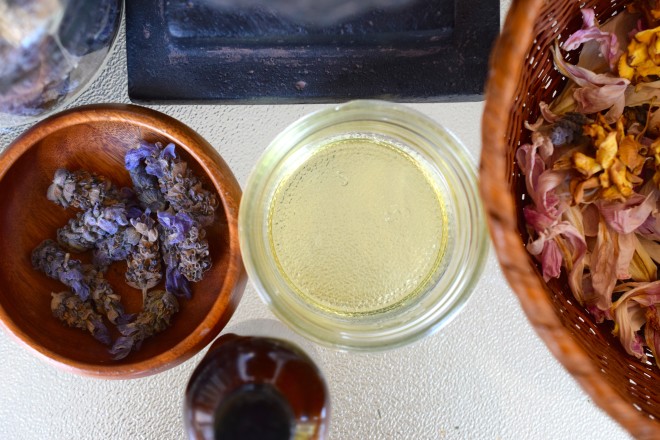 Homemade Pre-cleansing Skin Oil
1 cup sunflower seed oil
10 drops lavender essential oil
Pour into a glass bottle. I mixed it in a clear glass Mason jar, and then poured it into an amber jar. Use about a teaspoon full in the palm of your hand, and massage it onto your dry skin(not wet). This will pre-cleanse your skin, and next fill up the sink with warm water, and dip your bar of soap into it and lather up to wash your face. Next splash with water 30 times, and pat dry with a towel.
Sea-Mud Soap
I love the sea mud soap, and it became quite famous in the Woody Allen movie, "Annie Hall"
when he says, "I found this in the apartment. Black soap. She used to wash her face 800 times a day with black soap. Don't ask me why."
I can't see paying $45 for a bar of soap (Erno Laszlo Cleansing Bar
), so I looked around and found some alternatives:
1. Crabtree & Eveyln's Sea Mud Soap for $10
2. Adovia Natural Dead Sea Mud Soap
3. AHAVA Dead Sea Purifying Mud Soap
4. One With Nature Dead Sea Mud Bar Soap
Now what about the Erno Lazlo Shake-it?
Turns out that as of Jan. 2017 they do not make it or sell it — no more Shake-it. I am so disappointed, I have been using the Erno Lazlo Shake-it for over 30 years. I have been doing some research, and I think I am going to try this product: Janet Sartin Dual Performance Treatment Makeup Regular Coverage. You can find it here. If you try it, leave me a comment and let me know what you think!